As consumers of content, we know the value of a great image -- whether that's a photo, illustration or data graphic. Maybe it stems from our days in the cave, when all we had was pictures, but even all this time later, we still like pictures with our words.
We noticed that some of our clients -- even some big brands -- weren't maximizing the opportunity to make blogs more compelling with images. When I asked why, it largely came down to time. Finding a hero image was about all anybody had time for, or felt was truly necessary. But data from OrbitMedia show the game has changed, and more than half of typical posts have more than one image.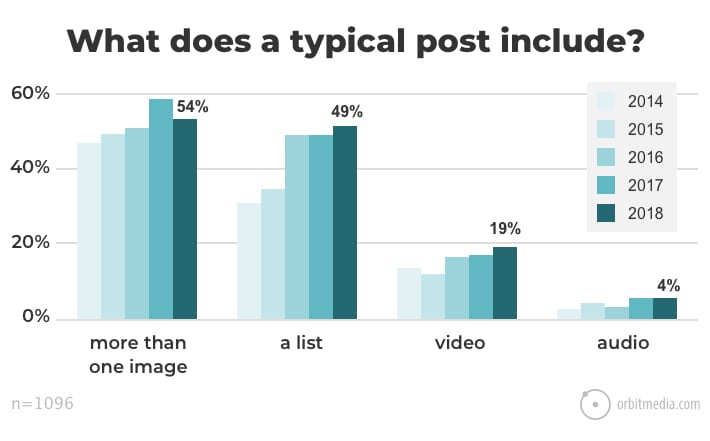 I saw an opportunity to add value, so I engaged our design partner, Marc Borzelleca, and created an add-on package for our clients. The pricing is an incremental add-on to the project cost.
Instead of their teams finding suitable images, we provide three per post. We do this for all new content we create, as well as part of our refresh package for evergreen or resurfaced content. For some clients, we even provide metadata for the images, taking one more task off their lists.
In addition to streamlining the process for them, we also make sure we have good representation in the photos and that there's sufficient variety to use throughout the post. They also get versions that are specially sized for social media channels.
Letting us take on this task makes sense, too, because we're so close to the topic we quickly zero in on opportunities to use imagery to illustrate key points or broad concepts that can be missed by internal team members who are reading more for keywords or grammar. And it's the only job our Marc has on the project, so he's keenly focused on choosing terrific images.
It's a low-drag process for us that delivers real value to our clients.
If you're an agency owner or freelancer, how can you make it easier for your clients to integrate more images into their blog content?
And if you run an internal shop, how can you leverage your outside suppliers to do more of this kind of work for you so your team can focus on other crucial tasks?
Related Content: