I'm a big fan of "resurfacing" content. That term's original meaning is to republish (usually on social channels) older content to feed a newer audience, as illustrated in this short-and-informative Nieman Journalism Lab post: It's great to resurface old stories. You can also take it one step further to revise and update older content, usually for the same purpose--like resurfacing a road. Same road leading to the same place (in this case, a URL), but better.
See how The Word Factory can help you resurface content.
Resurfacing 
Take a look back at your most popular posts (using whatever metrics you like -- clicks, shares, whatever) and resurface as-is the ones that have relevance today with a new share, following Nieman's advice for also sharing the original publication date. Here's an example of this kind of resurfacing from Match.com.
Refreshing
Also look for articles in this group that could use an update--particularly seasonal content or copy based on news hooks. You have two options here: update and revise the article or create an entirely new related post with an in-depth update and link the two.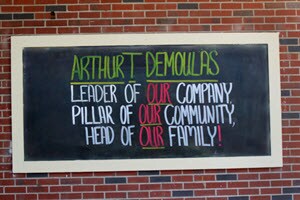 For instance, I wrote this article for Staples on the Market Basket fiasco. The news hook will expire, but a few months on we can update it with a short blurb on the current situation. And, depending on the final outcome, we may have some lessons or insights to share in an entirely new article.
Refreshing keeps high-interest content relevant and leverages it for more high-interest content in the present. Even if your content's "evergreen", even if it was thoroughly reviewed the first time, it can always be made better. It's also a great way to extend the value of listicles because you can create an entire article around any/all of the list items, creating cross-links galore.
How to Manage Resurfacing & Refreshing
You likely have the internal capacity to do v1 on your own if you don't have an agency managing your CMS. v2 is a good candidate for out-sourcing to freelance journalists or an agency who can research, revise and write quickly. You can also save some steps if you don't mind giving us temporary access to your CMS (most have guess access capabilities) so we can load and format the revised/new content directly. Learn more about outsourcing.
Next time you review your content management strategy, consider resurfacing. Some clients actually make "scheduled maintenance" part of their quarterly content plans. Email me about your surfacing or historical optimization project.
RELATED CONTENT: