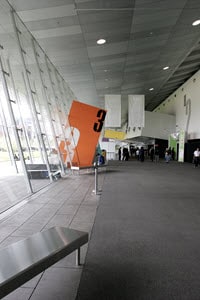 Trade shows. We want them to be productive, but sometimes it feels like they're more work then they're worth.
I tried to address those challenges in a trio of articles I penned on trade shows for Staples:
Swag 101: What you need to know about give-aways and promotional items. One of the most important aspects of trade show exhibiting is swag — those promotional items designed to spread your logo and message to the masses. Here are some core considerations to help choose and design giveaways that won't be left in the hotel room. Check 'em out!
Booth 101: How to get noticed on the trade show floor. Your first trade show or expo is an important rite of passage for small businesses. A good event can lead to valuable orders, partnerships and exposure, but that can't happen if your booth doesn't get noticed. "Attendees are on their phones, coordinating meetings and relaying info back to the home office," says Tremayne Cryer, a Carrboro, NC–based designer and trade show veteran. "After combing aisle after aisle, they will barely notice a booth before stumbling into it. Anything you can do to raise your visibility in a unique way will help." Learn how.
Trade show checklist: Small but important must-have items for your booth. Think you've got everything checked off your trade show checklist? What are you going to do about the raging headache you get after 5 hours of listening to the same bad jingle emanating from the booth next door? Yeah. That's what we thought. Beyond the usual must-have items for your booth like presentation graphics and printed marketing materials, there are a slew of small but important supplies crucial to trade show survival. Read more.