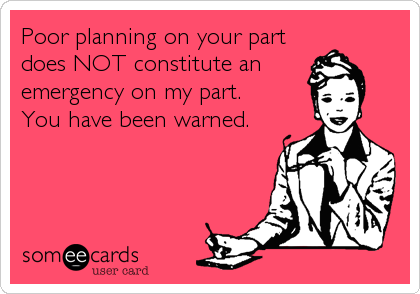 How many times has this happened to you: You carefully plan your content calendar down to the day and hour only to see it blown apart when a SME isn't available on your schedule.
We see it a lot. Most recently, the content team scheduled white paper backgrounding and writing during a week in which all the top internal and external SMEs were at a national conference. None was going to be able to meet the deadlines required to make the go-live date without Herculean efforts only one was willing to make on short notice.
This put the project manager in a difficult position -- miss the date, publish without the industry experts or go to his boss to ask her to nudge the SMEs or to request extra time. (He ended up asking for the outreach, which was declined in favor of pushing the deadline back a week.)
You may feel like the impact of this is pretty minimal, and in any given case, it may be.
But if this is a recurring circumstance in your shop (and in our experience, it is for many of you) the impact is tangible: missed deadlines, fire drills for content team and SMEs which lower morale and raise frustration, and a lot of extra stress and strain. And in my experience, the delays that come from unexpected unavailability usually exceed the delay you'd experience had you just waited on the SME.
How to Improve SME Involvement in Content Marketing
It doesn't have to be this way, though. If you haven't added likely sources for each piece in your content plan, do it now. Then, 30 days out from project kick-off, check in with your internal and external experts about their availability. This is your early warning system. You've got so many more -- and better -- options when you know ahead of time that your first choices aren't going to be available, such as:
Interview them in advance so their insights are available when your producers need it.
Go to someone else in your network.
Ask them to suggest another expert you could go to and request an introduction if necessary. Bonus: This expands your source pool.
Get a big gun to ask them to be available for a short time anyway. I only deploy this option when the person is unavailable because of a business trip or obligation. I don't invoke it for people out on medical leave or vacation.
Devise another Plan B with your boss or team.
This plan may feel like overkill for most of the items on your content calendar. In that case, at least institute it for the big rock projects that are resource-intensive and of extremely high value.
Related Content