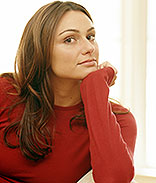 Where's my special someone?
By Margot Carmichael Lester
You've got the look. You've got the confidence.
You're smart. You're funny. But you can't get a date. Why? Probably
because you're waiting for love to find you. But the old "you gotta be
in it to win it" attitude is oh so true.


"Generally, we would rather be found than have to find," explains John Townsend, author of God Will Find A Way and Loving People: How To Love & Be Loved.
"There is less risk involved. But once we become comfortable learning
to take initiative and introduce ourselves or make ourselves available
to people we're attracted to, we understand that the risk isn't as scary
as we once thought."


So it's time to turn around your mindset and start taking a proactive
role in finding the love you want. Click here to read the tips!