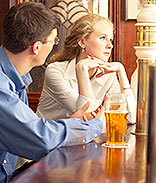 Is your date lying to you?
We've all dated people who've lied to us about something.
"I once went out with a guy I met online who didn't tell me his real name for the first couple of dates, I guess to protect himself in case I was a psycho," recalls Marcia Borgia of Charlottesville, VA. "The trouble was, I was used to calling him by the name he gave me — and so were my friends who'd met him, so it was hard to call him his right name. I gave up on that and then gave up on him."
"I was dating someone exclusively who said that she pulled her online profile," says Charles Stevens of Boston. "Weeks later, while she was out of town on business, our phone conversations became somewhat forced. I knew something was off, so I decided to check to see if her profile was still off the system. And there was her smiling face on her active profile. I confronted her, and she said she did it only because she was bored and wanted attention. Although she immediately yanked her profile, I broke up with her."
"I took a good job that required a considerable daily commute, and my girlfriend feigned concern for me," says Kurt Grayson of Galveston, TX. "She said that I should get an apartment closer to my work for the weeknights. Soon after that, she left me for her boss. Violins, please."
Nobody wants to date someone who can't tell the truth, but is there a way to identify these people before you fall for them? Yes, according to Greg Hartley, the author of How to Spot a Liar and a decorated military interrogator with years of experience in getting the truth from enemy combatants. "You already know the best rule of thumb — if it sounds too good to be true, it probably is," he says. "Humans communicate in two languages: a spoken language and a body language. When the two do not mesh, I typically believe the body because we are aware of our words and can alter them carefully."
Want to know how? Click here to read the entire Match.com article.
For more of my writing on relationships, check out this link.