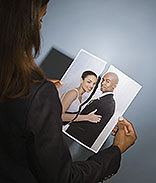 5 steps to avoid White Knight Syndrome
By Margot Carmichael Lester, Match.com
You're successful at work, you know loads of great friends and you've got strong bones and teeth. In short, you've got it made… well, except in the love department. Despite all this, you're a mess when it comes to love, continually dating people in some kind of crisis or another. What gives? You could be living out what's known as "White Knight Syndrome" (or "Florence Nightingale Syndrome"). You abandon successful relationships
or start unhealthy ones believing your love can transform or save another person's life — while you're actually sabotaging your own. What?!
Read the entire article here.