I've corralled a team for a brand journalism initiative for the Staples Business Hub. We research and write articles on everything from assembling office furniture to strategies for handling common small business dilemmas. Here's one article from the package that's relevant to what we cover here on The Word Factory blog.

Influence Customer Behavior by Marketing with Color
by Braulio Agnese, Staples® Contributing Writer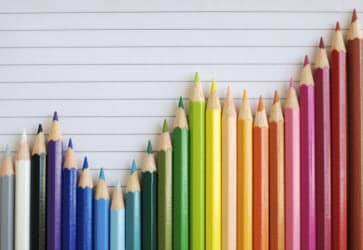 The human eye can distinguish between 2.5 million and 10 million color variations. Combine this with the fact that graphic design and printing capabilities are more powerful and affordable than ever, and it means your small business has a practically limitless palette for influencing customer behavior and buying habits with signage and marketing collateral.
But don't go crazy with the million-pack of crayons just yet. "It's one of the biggest challenges today — avoiding too much color," says Tomás Snoreck, creative director at ripe, a Washington, DC, graphic design firm. "More is not necessarily better."
To get the most out of your marketing materials, you need to increase your knowledge of the link between color and behavior, particularly the effect of color on consumer purchasing habits. Continue reading about how to use color in marketing